7 Reasons to Use Instagram for Your Business
Date:
Friday, February 4, 2022

Your customers are on social media. Are you? If not, it's time to take advantage of everything Instagram and other platforms have to offer. Whether you're already on "the Gram" or just curious about its potential, you'll want to make a mental note of the following seven reasons to use Instagram for your business.
1. More Users Are on Instagram
As a widely popular photo and video sharing platform, Instagram boasts more than 1 billion active users, 500 million of which use the app daily. It goes without saying, but that large of a captive audience is any business owner's dream. With a proper strategy in place, any business can effectively expand their range, while reaching new heights of success.
2. Businesses of All Sizes Can Thrive
Think of social media as a tool for your use. How can you take advantage of all it has to offer? Some of the biggest brands we know today got their start on social media by posting daily, consistently interacting with followers, and participating in trends. Over time, these simple actions can help you connect with your target audience, expand your reach, and create brand recognition.
As the saying goes, success doesn't happen overnight, but with a plan of action, you're sure to make strides.
3. Stories Show Your Business Is Relatable
No matter how large or small your business, you want to be relatable. With social media, it's not just about how you show up – it's also about where you show up.
Instagram Live and Stories are the two best places you can really connect with your followers. There, you can give behind-the-scenes glimpses, directly interact with followers, and most importantly, showcase the human side of your business.
4. Increase Visibility Using Hashtags
As a business owner in today's world, you probably consider yourself #blessed to live in a time when you have everything you need to tell the world about your brand in the palm of your hand. Well, that and an on-brand hashtag that sets your business apart from the rest.
Think Lay's #DoUsAFlavor and Charmin's #TweetFromTheSeat. Good hashtag campaigns like these further drive traffic and awareness around your brand.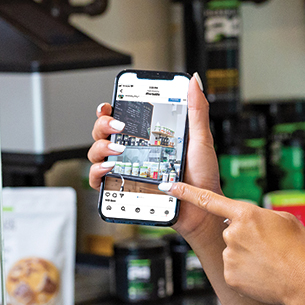 5. Effectively Engage with Customers
Interacting with your followers and target audience can only help you drive engagement, so ask questions, answer their questions, be responsive and offer support when issues arise. As with anything, consistency is key.
6. Mobility Is Making Moves
While Facebook and Twitter first originated on the interweb, Instagram was designed as a mobile-based app from its inception. Known for its cleaner style and easy-to-navigate interface, Instagram is a fan favorite amongst smartphone users alike. Look at engagement rates on Instagram compared to the others and you'll understand why brands take their advertising on Instagram so seriously. Make sure you do, too.
7. Easily Showcase Creativity
When it comes to the world of social media, your imagination is the only limit. Think about businesses and brands you enjoy following. What is it about them that keeps you coming back for more? Set yourself up for success by brainstorming fresh ideas, sharing high-quality photos and videos, and coming up with new ways to draw attention to your page.

Before you promote your business on social media, make sure to read our Price Advertising guidelines.
Want more social media tips, content ideas and inspiration? Follow Herbalife USA on Instagram and Facebook.